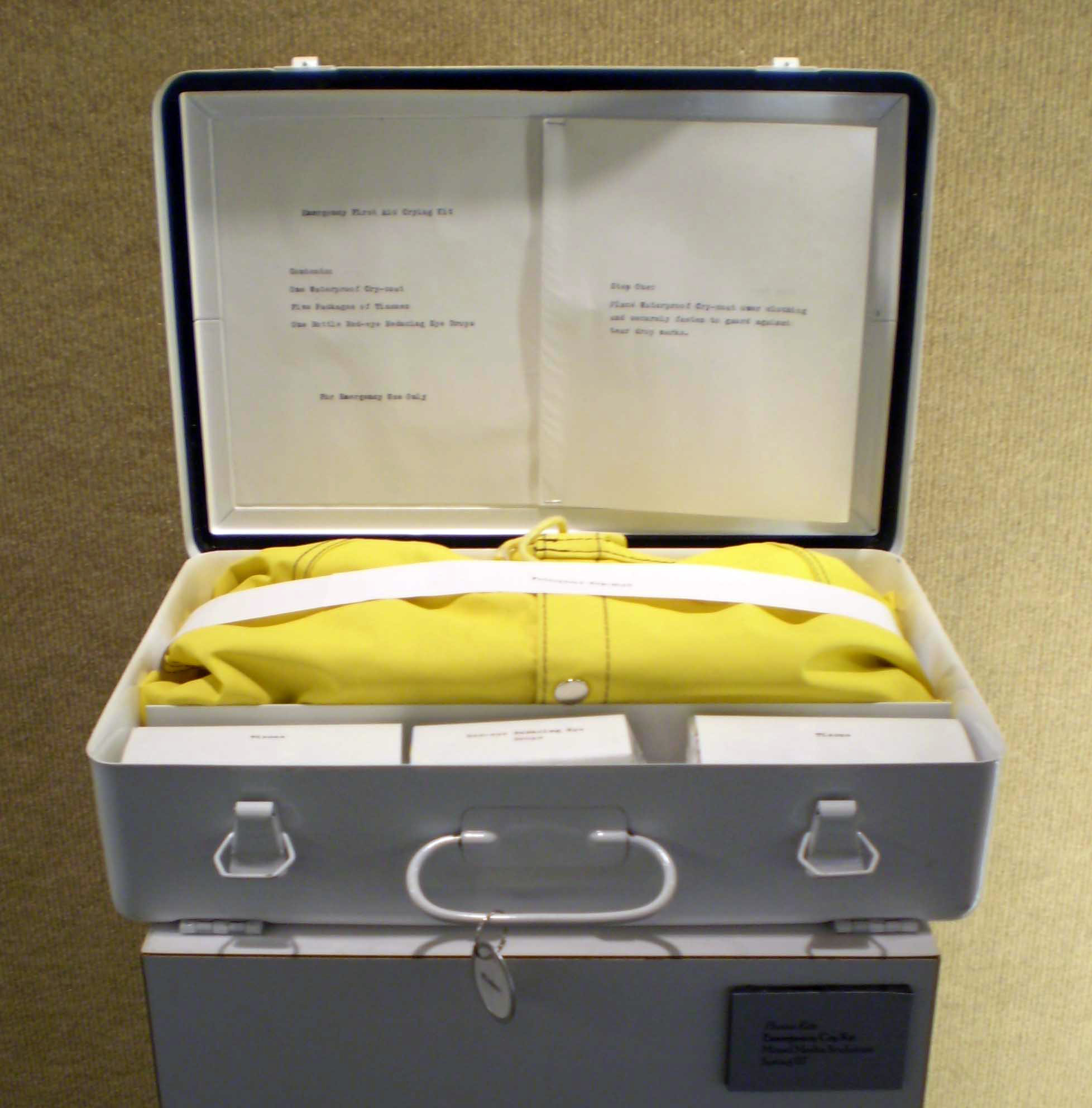 Secret Keeping Box
From 'A Reason to Fly' series, Mixed Media Sculpture

Cedar Box lined in Unbleached Raw Canvas

Contents:
One Papillo Ulysses Butterfly Specimen
One slip of paper reading "beauty really does exist"

Box to be displayed closed with instructions for the viewer to open.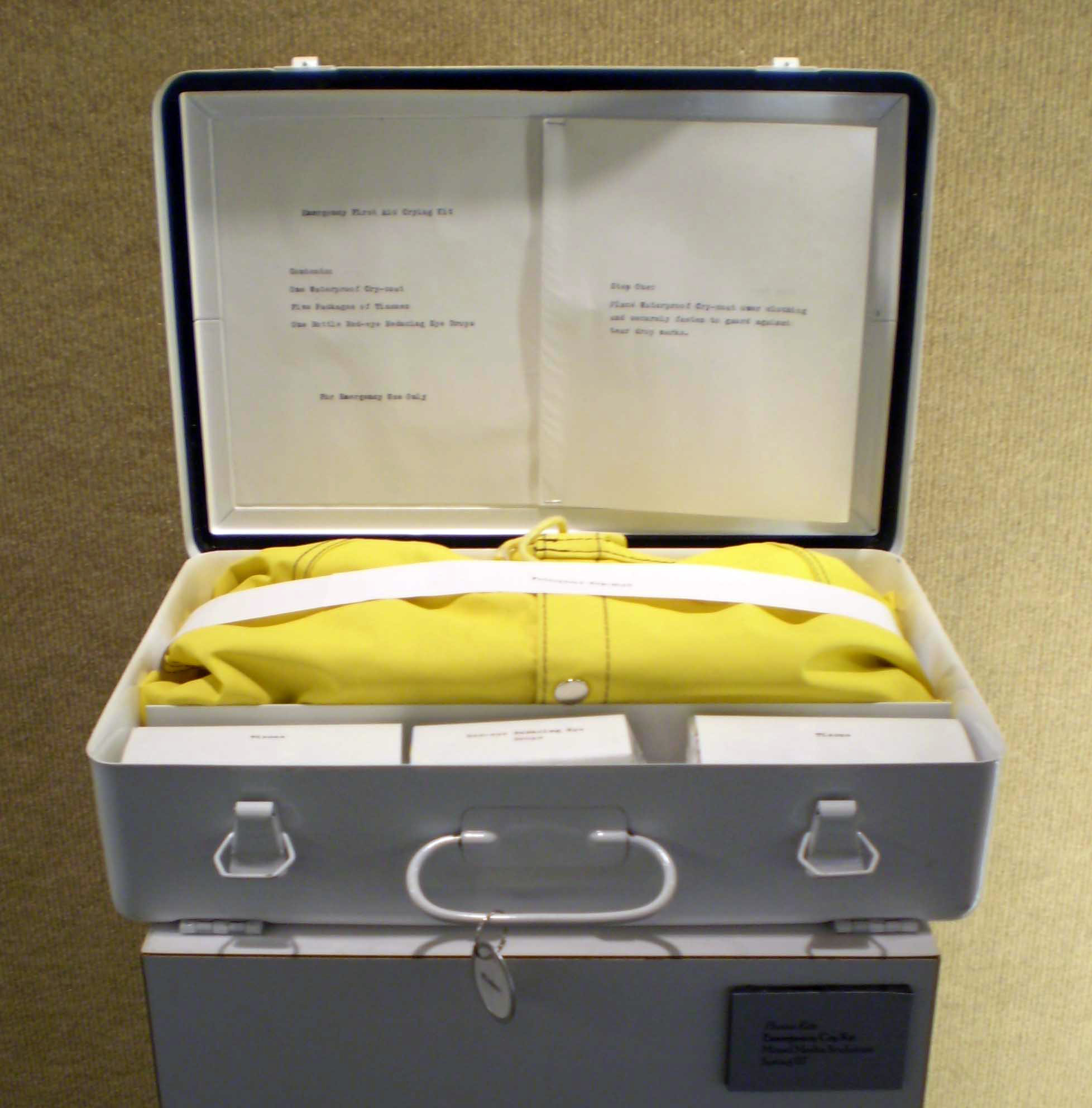 Emergency Cry Kit
From 'Flux Kits' series, Mixed Media Sculpture

Metal First-Aid Case with Fluxus Tag
Contents:
One Waterproof Cry Coat
Five Packages of Tissues
One Bottle Red-Eye Reducing Drops

Instructions and Aftercare:

For Emergency Use Only

Step One:
Place Waterproof Cry-coat over clothing and securely fasten to guard against tear drop marks.

Step Two:
Remove packaging from one of the tissue packages and prepare for use.

Step Three:
Allow tears to flow freely.

Step Four:
Wipe excess tears off face, hands, and cry-coat using tissues from package.

Step Five:
Place two drops of Red-eye Reducing Drops in each eye to reduce redness and puffy appearance.

Step Six:
Return materials to Emergency Crying Kit Box and resume normal activities.

Aftercare:
Do not approach uneasy or tense situations for a minimum of 4 to 6 hours or until spirits have lifted.
Writing Kit
From 'Fluxus Kits' Series, Mixed Media Sculpture

Red Velvet Lined Stationary Set Box with Acrylic Lid
Contents:
one dip pen
one stick sealing wax
one wax seal
nine ink vials: blood, sweat, poison, milk, white-out, red nail lacquer, holy water, tears, and rose oil
twelve envelopes
twenty four stationary sheets
Crying Man
Mixed Media Sculpture

Plastic Wrap, Packaging Tape, Newsprint, Chair, Brown Paper, Cotton Rope
Pack Your Bags and Say Yes
From 'A Reason to Fly' series, Mixed Media Sculpture

Blue Vintage Suitcase, 'Fly' and 'Hope' Fluxus Tags, White Feathers, White Satin Ribbon

Cream Vintage Suitcase, 'Remember' and 'Cry' Fluxus Tags, White Facial Tissues, Brown Grosgrain Ribbon
Verb Boxes
Mixed Media Sculpture

Five Etched Acrylic Boxes, Vellum Sheets, Fishing Line, #2 Pencil Lead

CUT me loose from you
RUN as fast as you can
CRY like there's no tomorrow
TIE me to your side and never let go
FLY like you can't be caught
Peace Spreader
Desert Storm Camouflage painted Seed Spreader and Burlap Sack with Dove Emblem